Sunrise Landscape: A project partner who makes your property shine
For over 40 years, Sunrise Landscape has performed commercial landscape installation services on properties involving every shape, size and plant type. We started in Tampa and have expanded to also serve Bradenton, Lakeland, Sarasota, St. Petersburg, Wesley Chapel, Ocala and the surrounding areas.
Our team functions as a true partner for your project. We are a full-service landscape contractor, meaning we can act as a single-source vendor to fulfill all of your landscape, irrigation, and hardscape needs. We take into account the size and scope of your needs and create a design and budget that turns your plans into reality while staying within your means. And when your project is complete, our team of long-term maintenance experts is ready to take over and ensure your property stays beautiful for many years to come.
A time-tested, trustworthy team
Whether you need us to tackle a complete development project or support a critical piece of the puzzle, we're fully committed to seeing your project through. When we become your project partner, you'll see that:
Safety is job number one
When we take on a job, our team performs weekly safety reviews and daily meetings to ensure that everyone on site is taking proper precautions.
We honor your time and your budget
Whether we're the first on the job or the last company to be subcontracted, we go out of our way to ensure your project is complete in your original time and budgetary scope.
We're insured and bonded for your protection
Our company is fully insured and bonded, which means your project is de-risked and guaranteed to see completion. We also offer a limited warranty program for new installations.
Core Central Florida commercial landscape installation services
Sunrise Landscape is able to design and install landscapes for communities and businesses of every size and style. Our Tampa-based team provides:
Hardscape and softscape design and installation
Landscape and horticulture consulting
Renovation and enhancement of existing plant palettes
Turn-key landscape construction services
Irrigation system design and commissioning
Large-scale tree and palm installation
Ornamental plant replacement
Commercial hardscape installation
Sunrise Landscape specializes in the installation of long-lasting commercial hardscapes built to withstand the Florida elements. We install concrete flat work and pavers in a variety colors, compositions, and finishes based on job specific design specifications. We can help you navigate factors like local building guidelines, traffic flow, sustainability, budgeting and more. Sunrise Landscape is committed to developing beautiful hardscape features that meet your unique project needs and enhance the look and function of your commercial property.
We design and install a variety of hardscapes, including:
Sidewalks
Pool decks
Stairways and ramps
Curb and gutter (Non-DOT)
Retaining walls and fences
Patios
Exterior feature foundations for bollards, signs, site furnishings, etc.
And so much more …
We believe in offering best-in-class commercial landscape installation. That's why we offer many services you won't always find when working with other companies, including:
An 8-acre nursery that provides a wide array of "Florida Fancy" trees, palms and plants we can use to craft custom landscapes.
A team of experts including arborists, agronomists, certified pest control applicators, horticulturalists and licensed irrigation professionals. They use their local knowledge and horticultural experience to create "Florida-friendly" ecosystems.
A holistic landscape solutions partner with a full-scale maintenance division that can maintain all aspects of the project at turnover, including landscape maintenance, irrigation system management, and ongoing weed and pest control.
Decades of commercial experience in support of developers, general contractors, architects, property managers and home builders.
Professional crews and a modern fleet to tackle high volume construction projects.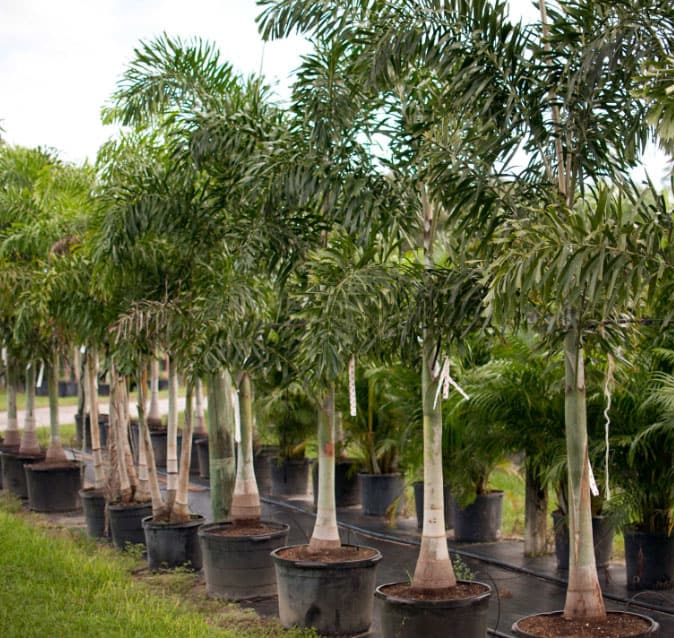 Let's Grow Together
If you have a property in the Tampa region that needs an expert touch, get in touch with us at (813) 985-9381 or complete our contact form. Our commercial landscape installation team is ready to turn your property vision into reality.